Years after years you gladly return to the same resort where staff members feel like family and are eager to welcome you back to pamper you for another memorable stay in Mauritius. You would not change your holiday spot for the world…so why not buy your own suite in your favourite hotel? Anahita Golf & Spa Resort now offers this opportunity to the destination lovers, as explained by Dominique Di Daniel, General Manager.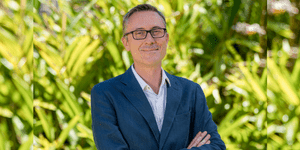 ''We welcome back a number of regular clients since the opening of the resort and it was clear to us that they would be interested in becoming the proud owners of the suites they stay in during their holidays. Hence, we decided to list our 24 Junior Suites for sale, available as units of 2 communicating suites.
Freehold suites in an exceptional setting
The suites are located in the Amalthea neighbourhood in the heart of our 213ha estate, close to the hotel's amenities and services as well as the golf's clubhouse, one of our key experiences compared to our competitors. We are, indeed, very fortunate to have an internationally renowned golf course at the edge of Mauritius' largest lagoon.

Situated alongside holes 1, 8 and 9 of the Ernie Els designed golf course, each 60 m² Junior Suite boasts a kitchenette with dining area, a comfortable living room, a terrace or a balcony with views on the garden or the golf, as well as an en-suite bedroom. The acquisition will entitle the owner to a 120 m² freehold property in one of the Indian Ocean's most prestigious residential estate.
An investment bearing several advantages
Buying Junior Suites is more than just an asset. In fact, this investment guarantees 3% return for 5 years for the first buyers. Furthermore, the maintenance and renovation costs being borne by the resort, no additional fees will be requested from the owner for the suites' upkeeping.
Other great advantages are the eligibility to Mauritian residence permit as long as owning the property as well as 90 yearly night stays in B&B to enjoy during your holidays!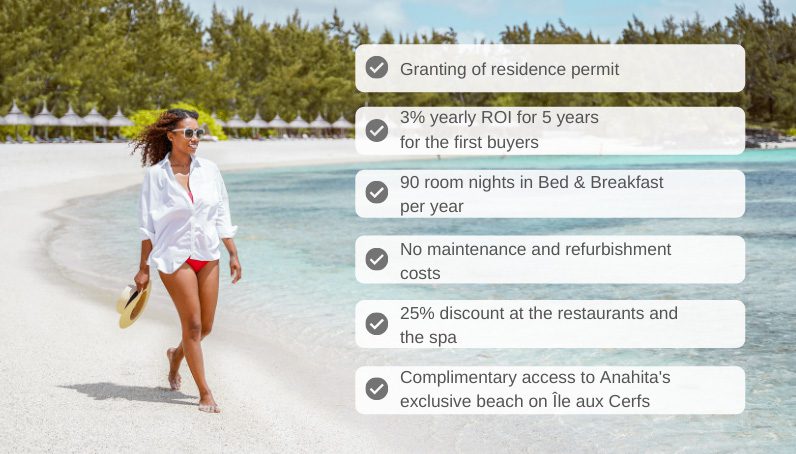 A unique lifestyle between golf and lagoon
Anahita offers an array of delightful experiences! Golfers can play on two exquisite courses (Anahita Golf Club and Île aux Cerfs Golf Club), gourmet enthusiasts can taste fantastic fresh produces and local flavours in our restaurants offering eclectic menus, nature lovers can choose from a plethora of water sports in our lagoon…Our spa and marvellous the Île aux Cerfs beach are also ideal to unwind and relax!"
Click below to discover our Junior Suites
Should you wish to make the most of the lifestyle and financial advantages coming along with this opportunity, please contact our team of property consultants.

+230 402 22 46 | info@anahitamauritius.com
Cette publication est aussi disponible en :

Français