In 10 years, Anahita has built an excellent reputation in the Golf world. With lush manicured fairways, breath-taking views and high-end facilities, it has everything to please novice to pro players!
Designed by golf legend, Ernie Els, the par 72's one-of-the-kind golfing experience is frequently cited as golfers' favourite course in Mauritius across French clubhouses and beyond!
Location is undeniably one of the splendid golf course' strong points. Nestled at the edge of Mauritius largest lagoon on the island's east coast, Anahita has some of the Indian Ocean's most wonderful holes. Indeed, the 4 th and 5 th holes' green seem to float on the turquoise lagoon. Par-3 8th hole remains a unique memory for worldwide golfers. Not to mention the 17th and 18th where most golfers hit both clubs and cameras to capture the magical setting where green and blue shades perfectly merge.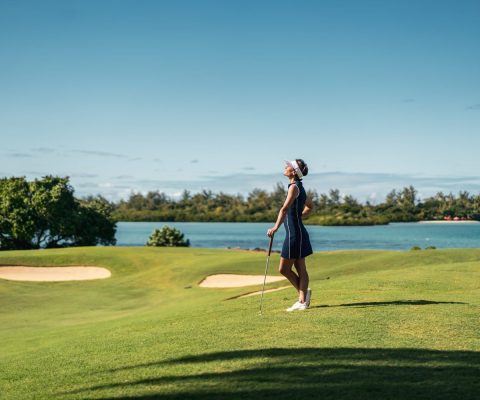 Anahita does not only boast incredible visual features. The golf course imagined by Ernie Els is, above all, a real yet enjoyable challenge for those who aspire to match his technique. But do not worry, regardless of your handicap, you will certainly thoroughly enjoy the experience! Starting from tees that match your game level (Anahita has four mens' tees, one ladies' tee as well as a junior's tee on each hole), you will have the possibility to attack the green with fairly open clubs. Indeed, if the face offs are not stressful at all at Anahita, the challenge occurs during the second stroke, which will largely determine your score card. If you fail to reach the green, achieving a Chip-putt is quite tricky.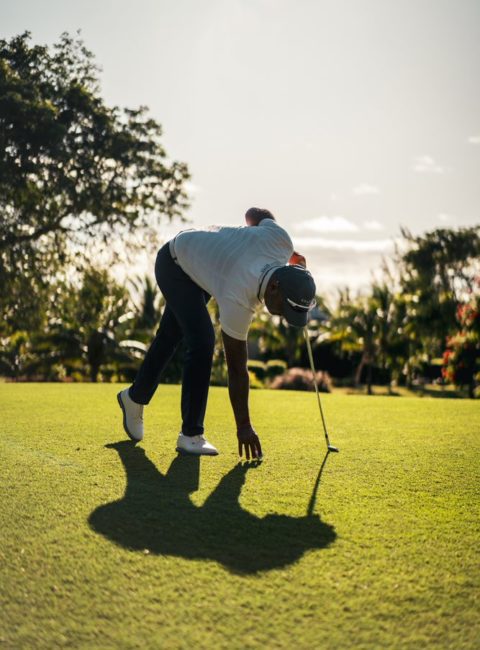 For most amateur golfers, the driving range is not a particularly pleasant moment but the Anahita quickly turns it into good times.
What's the trick? Firstly, to find a nice pyramid of clean quality golf balls. Secondly, being able to put on grass to get maximum sensations. And the, the setting! Surrounded by coconut trees, the driving range's unique tropical character is the ideal change of scenery to clear your mind and improve your performance to reach the different targets.
Once your long game is set, you may test your skills and your ability to tame Mauritian grass on the chipping green which is important to fix some pars on the course. Same applies for the putting green which will allow you to adapt well to the rolls of the Anahita greens, reputed to be quite rolling.
The legendary Mauritian kindness and warmth await at Anahita. As from your arrival, you will be taken care off by the golf's team. Bags carried onto golf carts, welcoming smiles at the pro shop…an optimal and fluid service is our motto. Once water bottles and ice are packed in your golf cart, you are ready to warm up at the driving range and to conquer the fairways.
Halfway through the course, take a break to enjoy a glass of iced tea and eat a cookie or two to pack up energy to complete the 18 holes. If you ever need to replenish your snacks or drinks stock once of the course, you will be able to do so by stopping the snack cart which criss-crosses Anahita's fairways all day long!
Once your game is over, great service continues at the golf clubhouse. Relax at Il Forno restaurant with a well-deserved drink, grab a freshly prepared bite and check out the golfers' last putts on the majestic 18th hole!
Cette publication est aussi disponible en :

Français